Puma has been accused of irreversibly damaging 17th-century architecture in Delhi's old quarter as part of an advertising stunt to promote a new line of shoes.
Large colourful murals were spray-painted on to the facades of several buildings in Old Delhi for the shoe campaign, which the global sportswear company says "captures the grit of Indian streets".
The buildings appear in an ad for the shoes, with Indian rappers and hip-hop dancers also performing at graffiti-covered locations in the financial capital, Mumbai.
But the stunt – dubbed "Suede Gully" after the shoe material and the Hindi word for street – has infuriated conservationists who have accused Puma of defacing the quarter, established by Mughal emperor Shah Jahan in the 17th-century.
One Mughal historian, Rana Safvi, said the wooden doors, the lakhori bricks and sandstone design of the buildings that had been painted suggested they were around 200 years old. "This is in effect defacing a heritage area," she said.
Swapna Liddle, from the Indian National Trust for Art and Cultural Heritage, agreed. "You can't just go and paint what you like," she told Agence France-Presse.
"Those who made and approved this advertisement, those who stood by while this was done, are all responsible for this insensitive treatment," she said.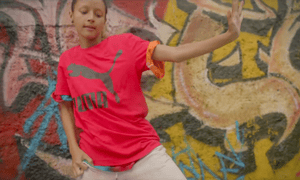 Puma could not immediately be reached for comment but a spokeswoman told the Indian Express newspaper "all necessary permissions were sought".
Rules to protect Delhi's neglected heritage sites from destruction are widely ignored, conservationists say.
Laws specifically forbidding advertising on historical buildings are also rarely enforced by Delhi's cash-strapped authorities, who struggle to uphold measures designed to conserve the city's crumbling icons.
The owner of one building spray-painted for the Puma campaign defended the stunt, and said the decision to allow the building to be decorated was his alone.
"This is a private property and the graffiti is making the area look more beautiful. The area is looking better now, it is more lively," Arun Khandelwal told the Indian Express.
But Safvi said approval from heritage officials would also have been required.
"The whole ethos of Shahjahanabad is its antiquity and you undermine that when you paint such glaring scenes," she said, using the historical name for the area.
Shahjahanabad, a walled city, was the last capital of the Mughal empire and is home to some of Delhi's most famous monuments such as the Red Fort and the Jama Masjid.
It remains a bustling centre of Delhi, its chaotic traffic, street food and craftspeople plying century-old trades, a contrast to the more orderly British colonial-era districts to the south.
"I am old fashioned about this: I don't think graffiti does any good to old monuments," Safvi added. "They have not beautified it. And it is all for a two-second slot in a video."