Indian football will make history on Friday when its under-17 team lines up against the US in the country's first football World Cup match.
Footballers from the remote north-east, the sons of rickshaw drivers and a player who grew up in "utmost poverty" have made the national squad for the under-17 World Cup finals, which are being held in six Indian cities.
India's population of 1.2 billion has produced world-beating cricket and hockey teams but never a football side good enough to qualify for the World Cup finals at any level.
The government has invested 1.2bn rupees to renovate stadiums in Delhi, Kolkata, Kochi and other host cities hoping to showcase the country as a venue for major sporting events.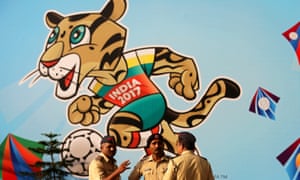 Excitement has been building in advance of the opening match of the three-week tournament. However, India's coach, Luís Norton de Matos, is among those tempering expectations, calling the World Cup debut the "first step for the future" of Indian football.
"There is a gap between India and the other teams, say from Europe and South America," de Matos told local media last month. "So, I don't think much about the results and chances but I know my players will give their best. I see this World Cup as a step forward for the future … India can build on this experience."
India's sporting megastars have rallied around the national team, including the cricket captain, Virat Kohli, who posted a video message to his 18.8 million Twitter followers to "back the blue".
Group matches against Colombia and two-time champions Ghana await the Indian team. Nigeria, which won the last two titles, did not qualify, leaving Brazil, Spain, the US and Mali as favourites.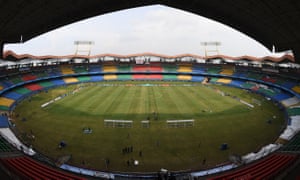 Environmental groups, including Greenpeace India, have warned that air pollution in the six host cities, especially in the capital, Delhi, exceed international safe levels and could affect the health of players.
Average levels of the pollutants during the 2008 Beijing Olympics were about 82µg/m3, while Paris took emergency measures, including traffic restrictions, in December last year when levels reached 146µg/m3.
Adults are advised to reduce physical exertion when PM10 levels exceed 100µg/m3 to reduce associated health risks including the aggravation of asthma and other respiratory conditions.
A 2015 study of the impact of toxic particulate matter on Germany's Bundesliga players found player performance declined "substantially" when coarse pollutants exceeded EU limits, especially in men over 30. The performances of players under 21 were shown not to be affected.