Lanvin is the oldest French fashion house still in operation. It was founded in 1889 by Jeanne Lanvin, a woman who smashed the glass ceiling almost a century before that term was invented. It is also a brand in turmoil, still reeling from the acrimonious 2015 exit of its much-loved figurehead Alber Elbaz, whose luxurious draped and ruffled dresses made the brand the toast of the red carpet throughout the noughties.
Since Elbaz's departure – which he said at the time was the decision of Shaw-Lan Wang, the company's Taiwanese billionaire owner – one creative director, Bouchra Jarrar, has been hired and, after two collections, has left. According to Reuters the numbers are as dispiriting as the personnel situation, with the house reporting a net loss of €18.3m (£16.1m) in 2016, and a sales dip of 32% in the first two months of 2017.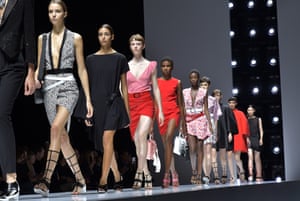 It would be an understatement to say that turning Lanvin around now is an enormous challenge. Arguably it is an unfair one to put at the door of Olivier Lapidus, the brand's latest hire as artistic director, whose experience in fashion has been relatively unorthodox – his CV includes running his own 'e-couture' brand and designing hotel interiors, as well as a stint at Balmain Homme – and who presented his first collection, after only a month's preparation, in Paris on Wednesday.
It was perhaps particularly unlucky that Lanvin was sandwiched between two breathtaking shows packed with luxurious clothes aimed at grown-up women. Before Lanvin was Maison Margiela, where there were deconstructed trench coats, cowboy ankle boots with diamante spurs and fluffy white bags fashioned after pillows, continuing an airline theme also seen in tags that hung from bags and from models' wrists and coats saying things such as "Cabin Crew" and "Priority".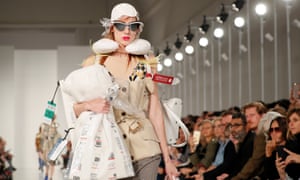 After Lanvin was Dries van Noten, where there were putty-coloured slip dresses and jackets and dresses fashioned from silk scarves, boxy power suits overlaid with pretty tulle, and a gorgeous use of clashing patterns and richly embellished fabrics.
Lanvin's show started simply, with the model Binx Walton wearing a black dress with a scooped, dropped back, her sleek, low ponytail wrapped in silver netting. But the looks that followed tended towards form-fitting silhouettes and leg-baring minis, and felt far from the modest shapes and "ugly-pretty" styling currently being explored by much of fashion.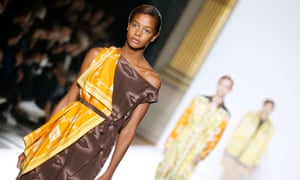 Much of it looked like clothes teenagers might wear on a night out, which fitted in with Lapidus' heartfelt explanation of the thought behind this "mini collection". Speaking backstage, he said he hoped that by offering short hemlines while many other brands were producing long ones, he would bring youth and freshness to the brand, which he hoped would appeal to millennials: "Because they influence the world. So this is a very interesting moment to take very old things and twist them and make them new."