After years of rumour and speculation, Daniel Craig's return to the role of James Bond – and Danny Boyle's appointment as director of the new 007 movie – have been confirmed.
Production will begin at the start of December 2018, with the film released in the UK on 25 October 2019 and in the US a fortnight later.
"We are delighted to announce that the exceptionally talented Danny Boyle will be directing Daniel Craig in his fifth outing as James Bond in the 25th instalment of the franchise," said EON Productions' Michael G Wilson and Barbara Broccoli, the custodians of the Bond movies, in a statement on Friday.
"We will begin shooting Bond 25 at Pinewood Studios in December with our partners at MGM and are thrilled that Universal will be our international distributor."
Universal's involvement marks a change: in the UK, Sony Pictures have previously handled distribution. MGM will still release in the US, in partnership with Annapurna Pictures, the highly-respected outfit owned by Megan Ellison, which has bankrolled films by the likes of Paul Thomas Anderson, Spike Jonze and David O Russell.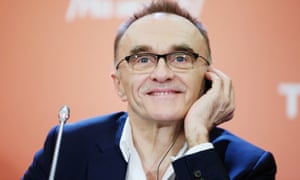 Danny Boyle promoting T2, the Trainspotting sequel, in 2017.
In March, Boyle – who is currently shooting a Richard Curtis comedy in the UK – said he was working on a Bond script, with a view to filming at the end of the year. The writer of Bond 25, John Hodge, is a long-time collaborator of Boyle's, having worked with him on Trainspotting and its sequel, as well as The Beach, A Life Less Ordinary and Boyle's debut, Shallow Grave.
Also rumoured to return to the franchise are Ben Whishaw, who plays gadgets expert Q, Naomie Harris as Moneypenny and Rory Kinnear as Tanner.
Whishaw recently greeted rumours of Boyle's involvement enthusiastically. "I just think it's really exciting to have Danny Boyle on board for Bond," he said.
"I was thrilled when I read that he was going to be doing it, I can't think of a better or more exciting fit for Daniel [Craig] and the direction he's taken the character of Bond.
"I'm just really excited to work with him, I've been such a big fan. It seems weird to talk about it because I've not had a conversation with him but it's exciting."
Craig's involvement was cast into doubt after he expressed a preference for slashing his own wrists rather than returning to the role while promoting Spectre in 2015. Candidates mooted to replace him included Idris Elba, Tom Hiddleston and Aidan Turner.
In 2016, Sam Mendes ruled himself out of future movies having directed both Spectre and Skyfall (2012). Later that year, Craig was reportedly offered $150m for two more Bond movies by Broccoli.
The collaboration of Broccoli and Donna Langley, the British chairman of Universal Pictures, brings together two of the most powerful women in cinema. Speaking to the Guardian in February, Rosamund Pike, who played a Bond girl in 2002's Die Another Day opposite Pierce Brosnan, credited Broccoli with creating a strikingly protective on-set environment
She said: "At 22, when I was on the Bond set – one of the potentially most chauvinist productions you could imagine – it could have been a very vulnerable place for a young actress to step into her first major role and it wasn't."
Said said MGM's chairman of the board of directors Kevin Ulrich: "Under the leadership of Michael and Barbara, we couldn't be more thrilled than to bring the next 007 adventure to the big screen uniting the incomparable Daniel Craig with the extraordinary vision of Danny Boyle."
Added MGM films president Jonathan Glickman: "It has been 16 years since Die Another Day was distributed by MGM and it's incredibly gratifying to be releasing this film alongside the powerhouse team at Universal."
Said Langley: "Universal is extremely proud to collaborate with Michael, Barbara and MGM on the international marketing and distribution of Bond 25. The unparalleled combination of Danny's innovative filmmaking and Daniel's embodiment of 007 ensured we simply had to be partners in the next chapter of this iconic series."